United in applauding farmers growing our food sustainably, the #IGrowYourFood action day held on the 25th September 2020 became a global celebration. Farmers, organisations, retailers, citizens, and many more joined from over 45 countries to directly share the importance of growing food sustainably and celebrating the farmers who do so. 
Agroecology isn't just a form of production where we regenerate the soil… we also care for relationships, gender equity, and a fair division of labour."
From young organic farmers leading change in their communities in Kenya, Germany and USA, to those integrating indigenous knowledge in their farming practices in Ecuador, Samoa and the Philippines, experiences were exchanged and stories shared.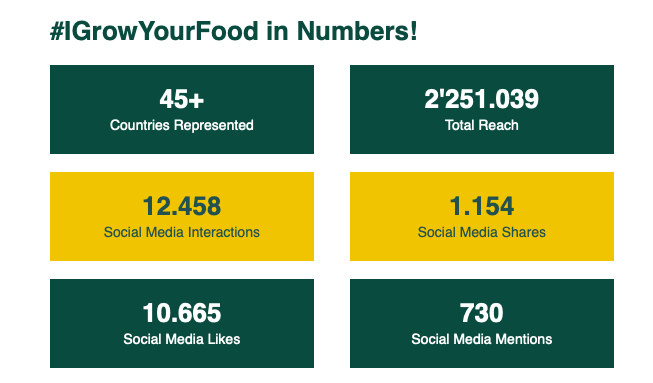 What made the #IGrowYourFood action day special and impactful is that the farmers themselves were in front of the camera sharing their experiences. There was a face to the person growing our food; from their farm to our screens. It shone a light on farming and connected us with the farmers  growing our food in an ecological and organic way.
Our voices as farmers are not heard. That is why I was happy to hear about the #IGrowYourFood campaign from IFOAM – Organics International which gives farmers like me and the 20 women in my community a global platform to speak on."
Just as the food we eat has no boundaries, the action day shone a light on organic farmers irrespective of background, gender and race. This was successful because of the immense participation from the organic movement that includes individuals and organisations who support sustainable food production.
We look forward to highlighting and celebrating all those ensuring we consume sustainably sourced products next year with the #IGrowYourFood action day again.
Subscribe to our newsletter for diverse organic content