The Japanese organic farmland share is only 0.3% [1]. This is partly because of its dependency on;
third-party certification which can be costly for many operators,
low governmental financial support for organic operators,
and low consumer organic food awareness.
Participatory Guarantee Systems (PGS) has been identified as an alternative way to increase the number of certified farmers, improve access to certification for the local market, improve consumer-producer linkages and raise awareness.
Organic Shizukuishi decided to introduce PGS in 2015 in Shizukuishi, Japan. Organic Shizukuishi follows the Japanese Agricultural Standard for Organic Plants (JAS), which was recognized in the IFOAM Family of Standards in 2014. In 2018, Organic Shizukuishi PGS was approved in the scope of the Official PGS Recognition program of IFOAM – Organics International.
Participatory Guarantee Systems (PGS) are locally focused quality assurance systems. They certify producers based on active participation of stakeholders and are built on a foundation of trust, social networks and knowledge exchange.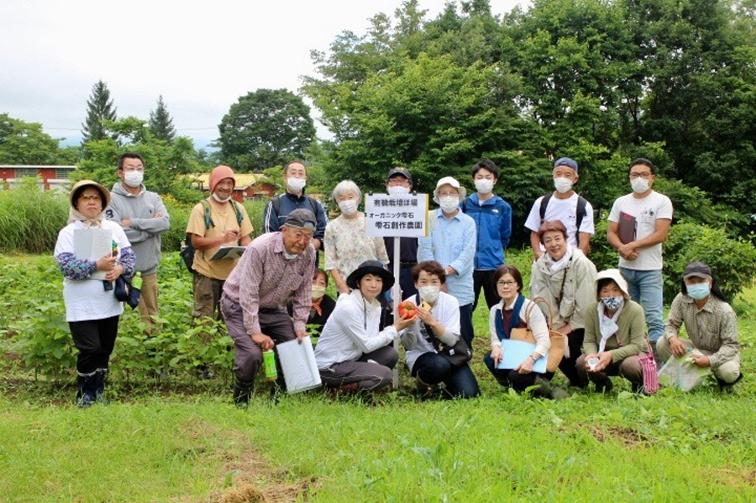 Much as JAS has been effective since 2005, only 12,027 ha farm lands have been certified against it as of 2020 [2]. To understand whether PGS might be a solution to complement third party certification in Japan and increase the certified acreage percentage, Organic Shizukuishi analyzed a publication done in 2011[3].  The publication was on the main reasons for operators to give up the JAS certification, or to not apply for it altogether.
Objectives and processes of Organic Shizukuishi PGS
Organic Shizukuishi started by studying the materials, guidelines and case studies provided by IFOAM – Organics International on PGS, so as to understand the differences between PGS and third-party certification.
Then the Organic Shizukuishi team studied the key elements and ten features of PGS at their regular meetings and created all the documentation, by exchanging knowledge with IFOAM – Organics International.
While third party certification normally focuses only on verification and guarantee services, PGS initiatives are always associated with the local community. They try to bridge the gap between farmers and the local community while contributing to sustainable organic farming and educating the general public to understand the advantages of a safe and secure source of organic produce.
Organic Shizukuishi's major PGS activities are farm peer reviews and promoting education of good eating habits for children at a daycare.
Other activities include:
The creation of jobs in the local communities through organic farming
The use of organic produce for their member's Bed & Breakfast meals
The revitalization of deserted arable lands by organic no-till farming
The Organic Shizukuishi community set up the Allied PGS meeting in 2021 to assist prospective PGS initiatives in Fukushima, Chiba, Nagano, Aichi, Gifu, Hiroshima prefectures. This creates a promising perspective on the future because PGS could contribute to the increase of the share of organic land as well as raise consumer awareness in the country.