What is Organic Cotton?
'Conventional' cotton has been grown in a way that relies on synthetic inputs to grow crops and tackle pests and diseases. Manufactured nitrogen fertilizer and synthetic pesticides are cornerstones of conventional practice. In contrast, organic cotton takes a more systems-based approach, relying on natural inputs and processes to manage fertility and reduce pest damage. Organic cotton farmers don't use toxic hazardous pesticides and artificial fertilizers. Organic is the only system which eliminates highly toxic substances from the environment and instead works holistically, for the long-term benefit of people and the planet.
Why is Organic Cotton Better for the Planet?
Cotton production uses 2.5% of the world's cultivated land, yet it accounts for 16% of global insecticide sales. It also accounts for 4% of artificial nitrogen and phosphorus fertilizers used globally. But it doesn't have to be this way. Organic cotton farmers use a range of natural techniques to support the growth of healthy crops. They don't use toxic hazardous pesticides and artificial fertilizers. Here are a few reasons why growing organic cotton contributes more to environmental sustainability than its non-organic counterpart:
How Consumers Can Help – Look for the Logo
Unlike food, textile products can be described as organic without having to be certified. This means that brands and retailers can call products organic regardless of organic content. For cotton to be truly organic, it should not only be grown organically but processed organically too. Citizens should look for the GOTS or Soil Association logo, which demonstrate that the highest standards have been met along the whole supply chain.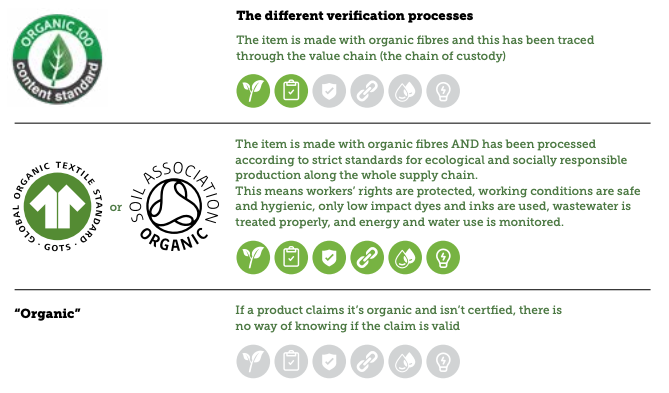 To learn more about how organic cotton offers a path forward to a better future, please visit the Soil Association's new report 'Thirsty for Fashion'. This 24-page report was published as part of the 'Have You Cottoned On Yet?' campaign.
Read the Full Report
Header Image © The Soil Association
This blog post is a lightly modified reprint from the Soil Association's What is Organic Cotton webpage. The original content can be found here.
In the previous blog posts, we took a closer look at ways local communities can promote organic agriculture. Check them out!